A Netflix Miniseries shows Robert Kennedy's trajectory from his early days with brother JFK to his demise. In the way, first-hand testimonies and real footages of the time.
I've just watched Netflix's miniseries Bobby Kennedy for Presidente. I wasn't aware of its existence until it popped up to me in Brazil recently. It was released in 2018.
It shows RFK's trajectory not only alongside his brother former President Jack Kennedy, but after the Dallas assassination, with Robert's ascention to the Senate by the State of New York.
Stand in the Schoolhouse Door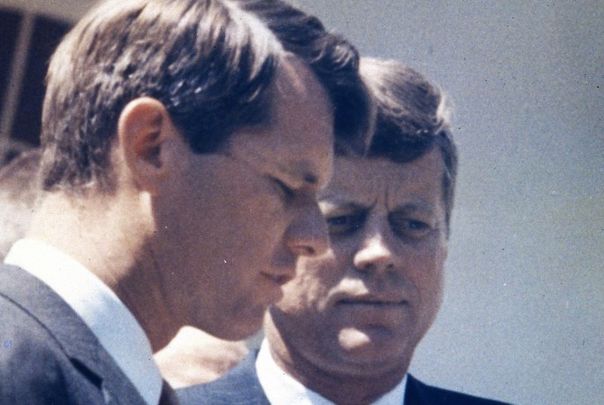 Forget the Bay of Pigs.
One of the most impressive subjects in the first two episodes is the reality of the time regarding civil rights and racism. In the country.
Clearly a racism with strong roots in the past and in specific regions in the United States, not the globalist / progressist agenda of division we fight today.
I can't tell which one of them would be easier to deal with. But the Kenendys surely faced the problem and pushed a revolution in terms of civil rights in America.
The event known as the "Stand in the Schoolhouse Door" was one of the most dramatic I've ever seen.
"It took place at Foster Auditorium at the University of Alabama on June 11, 1963. George Wallace, the Governor of Alabama, in a symbolic attempt to keep his inaugural promise of "segregation now, segregation tomorrow, segregation forever" and stop the desegregation of schools, stood at the door of the auditorium as if to block the entry of two African American students: Vivian Malone and James Hood."
Can you believe a politician today promising "segregation forever"? Of any kind? This happened in 1963, not 5,000 years ago!
Anyway, "in response, President John F. Kennedy issued Executive Order 11111, which federalized the Alabama National Guard, and Guard General Henry V. Graham then commanded Wallace to step aside. Wallace then spoke further, but eventually moved, and Malone and Hood completed their registration. The incident brought Wallace into the national spotlight."
Source: Stand in the Schoolhouse Door
In the series, it is shown the role of RFK in the event, working side by side with the President, sending his deputy first, to no avail. Only then comes the federalization of the ANG.
In the afterwards, President Kennedy issued a speech.
To me, it is impossible to belive that, after this speech, the American people allow itself to be subjulgated by the likes of George Soros, Kamala Harris, Joe Biden and internal terrorist associations that promote racial war while invoking racial peace.
I write a few lines here on the hole that both Brazil and the United States have to keep the conservative values alive and running.
I leave you with the words of Jack Kennedy, for who am I to say a word after what he's said.